Planning a trip to somewhere also includes searching for its worth-watching destinations. So, we will tell you about numerous best places to visit in Pakistan. It is rich in nature with spectacular mountains, lush green landscapes, and archaeological sites. There is nothing more one could want from the perfect adventure getaway.
Pakistan has it all, from old rulers' castles to the sparkling lakes in broad, swooping valleys. Also, it is as beautiful as it is unusual and captivating.
Places to Visit in Pakistan
Let us share a list of some best places to visit in Pakistan that are also notable and magical.
1. Gilgit Baltistan:
If you want some picturesque sights and adventure activities, visit the north side of this country. Begin your journey in Gilgit-Baltistan is always a common preference for people looking for various activities in a single region.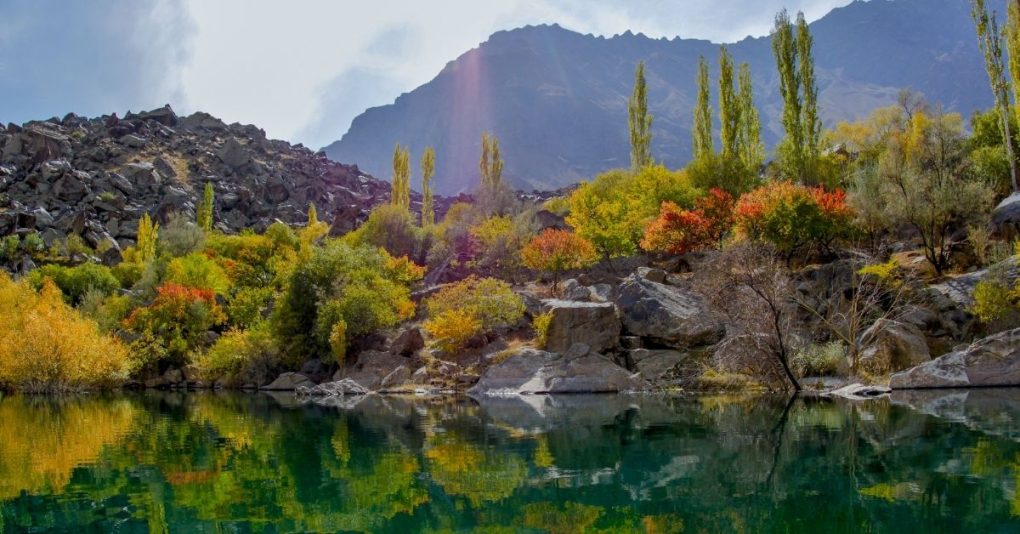 GB is home to 6000m high peaks, including the legendary K-2 and Nanga Parbat. Shandur is also here, which is the world's highest polo pitch. The Attabad Lake is also a highlight of Chitral, formed by a landslide in 2010. Skiers can visit the Naltar Ski Resort. At the same time, campers can enjoy hiking up to the beautiful Fairy Meadows.
2. Skardu:
Skardu offers it all from turquoise waters to lovely lakes and high mountains. The impressive thing about this place is its generous people who always welcome tourists. Kachhura Village, Katpana village's dunes, and Shangri-la Resort are the highlights of Skardu that you can spend 1-2 days exploring.
 Watch the dawn and sunset above the Indus River to enjoy a once-in-a-lifetime experience. Moreover, Skardu has 600-year-old Kharpocho Fort to learn about the area's history.
Skardu Bazaar is a must-see to shop and eat in cozy environments. Moreover, you will find some great local presents for your friends and family back home in this section. It is ideal for trekkers as they can trek over the glaciers to the basecamps of some of the world's highest mountains, including K2.
3. Bahawalpur:
Bahawalpur is in the arid expanses of the Cholistan Desert on the border with India. Initially, it was the capital of a princely kingdom part of the Rajputana States, spanning throughout Rajasthan in India.
The city is full of remarkable monuments dating back to the old times. The Darewar Fort in Bahawalpur dates from the 9th century AD, with its 30-meter-high walls enclosing 40 towering bastions visible for miles across the desert terrain.
4. Azad Kashmir:
In Indian-controlled Kashmir, opposite the Keran sector, lies Azad Kashmir, one of the best places to visit in Pakistan. It has a valley that runs about 240 kilometers from the Chella Bandi Bridge to Tau Butt. It is commonly called the Neelum Valley.
Neelum District is one of Azaad Kashmir's most picturesque valleys. It includes brooks, woods, freshwater streams, lush greenery, and a river. Here, you can observe waterfalls cascading down the mountains, their streams spilling over the roadways and splashing against the rocks before mixing with the muddy Neelum River.
5. Islamabad:
The charming city of Islamabad is Pakistan's capital. It is a soothing spot to relax and view the attractions. The city is lush with greenery, magnificent roads, and a clean and serene atmosphere.
You will love visiting the city. Famous tourist attractions include the Pakistan Monument, Faisal Mosque, and Lok Virsa Museum. Moreover, you can hike the Margalla Hills' beautiful and densely forested hiking routes before driving to Monal at the summit. From up here, you can get a spectacular view of the whole city of Islamabad and the surrounding environs.
6. Multan:
Multan is a historic crossroads of an ancient conflict, dynasty rule, and Sufism. Since 3300 BCE, Pakistan's seventh most populous city has passed through several hands, beginning with Hindu domination, then Greek invasion, and eventually a long period of Muslim rule influenced mainly by Sufism.
Multan now belongs to south Punjab as its integral part, with pilgrims coming from all over the country and overseas to visit the numerous shrines and mosques all year. It is regarded as the "City of Saints" because of the devotion the deceased Sufi mystics are buried here.
7. Chitral:
Chitral is a lovely village/town. Kind and inviting people inhabit this place. It is sheltered within a lush valley beneath the massive Tirich Mir. A bustling bazaar with numerous booths and cafes maintained by Afghan refugees runs through the heart of the city, leading to a small airstrip and a polo field.
The old mud fort, which was the site of the famous British siege, is still standing near the Shahi Mosque on the banks of the Chitral River. The Garam Chashma, the Kalash Valleys, and the Shandor Pass are all reachable. Being cut off from the rest of the country by steep mountains, Chitral has acquired the distinct feel and charm that you must see for yourself.
8. Karachi:
Karachi is Pakistan's most populated and diverse cultural metropolis. It is located on the Arabian Sea's shores. Originated as a fortified colony in the early 18th century, before it played a prominent part in British India before Partition.
It is now home to two of the country's most busy seaports. It is now known as one of Pakistan's most progressive and culturally diverse cities, and it is home to several major museums and shrines.
The National Museum of Pakistan, Muhammad Ali Jinnah's Mausoleum, and Abdullah Shah Ghazi's Shrine are in Karachi. Moreover, the Shah Jahan Mosque in Thatta, a UNESCO World Heritage Site, and Makli Hill, one of the world's largest necropolis sites, are short distances from the city.
9. Lahore:
You will feel as if you have entered the 90's when you go to Old Lahore. The city has a long and illustrious history as the seat of numerous ancient emperors who governed the region. The historic architectural beauties and general magnificence of Lahore astound visitors.
The historical sights are the renowned Badshahi Mosque, the Fakir Khana Museum, and the World Heritage-listed Lahore Fort. A walk through the Old Walled City of Lahore is an eye-opening experience. Even you can enjoy the zip line ride in Lahore.
Conclusion:
Every year, more and more people are being drawn to Pakistan, and these gorgeous places are there to demonstrate why.
Whether you want to immerse yourself in mesmerizing old history, spend time in nature, or immerse yourself in a fantastic culture, Pakistan has it all.